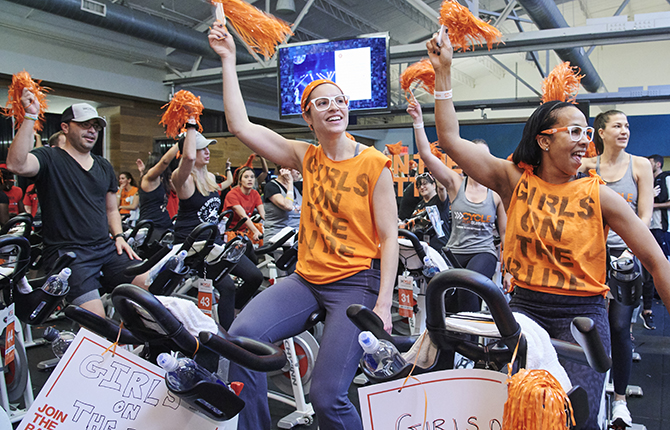 Saturday, March 2, 2024
Morning Shift: 8:00 a.m. - 12:00 p.m.
Afternoon Shift: 1:00 p.m. - 5:00 p.m.
Sunday, March 3, 2024
Morning Shift: 8:00 a.m. - 12:00 p.m.
Event Details
Check-In Time
Check-in begins one hour before the start of the ride. We suggest arriving 30 minutes to an hour before your ride time.
Getting There
Complimentary parking will be available in the Equinox Summit parking lot.
Locker Rooms
Locker rooms and showers will be available at Equinox Summit.
What to Bring
Space is limited, so please be mindful of the number of personal items you bring. You should arrive in the clothing you are going to wear while you ride. If you have cycling shoes, our bikes are compatible with SPD and Delta clips. We recommend that you also bring a pair of sneakers to wear when you are not on the bike. We will also have cages available for the bike pedals if you prefer to ride in sneakers.
What to Expect On-Site
All your favorite Cycle for Survival activities! Get ready to ride with our incredible Equinox instructors, hear powerful stories from our community, and get inspired by research updates from MSK doctors. You'll also be able to take a team photo, pick up your participant T-shirt and exclusive fundraising gear you've earned from our Official Performance Apparel Sponsor, Vuori, and enjoy our food and beverage area, with water provided by our Official Hydration Sponsor, smartwater®.
Accessibility
Equinox Summit is ADA accessible. Please contact us if you have any other accessibility requests.