What to Expect as a Participant in 2022
Riding in person? We're so glad you'll be riding at one of the outdoor rides this spring. Each bike you register can have four to eight people who ride relay style, sharing a stationary bike for four 50-minute sessions. You will have an individual fundraising page, and your team will have a team fundraising page presenting your team's total collective fundraising. Each bike has a minimum fundraising requirement of $1,000.
Riding extreme? Way to go! You will ride for all four hours and raise at least $4,000.
This year, all in-person participants must be fully vaccinated against COVID-19.
Can't join in person? Join this year's virtual event, featuring a celebratory video and, on Saturday, April 30, access to a four-hour live cycling experience on Equinox+. The classes will be recorded and accessible through May 22. You can be on a team or sign up as an individual for the virtual event.
Fundraising pages will close on June 15, 2022.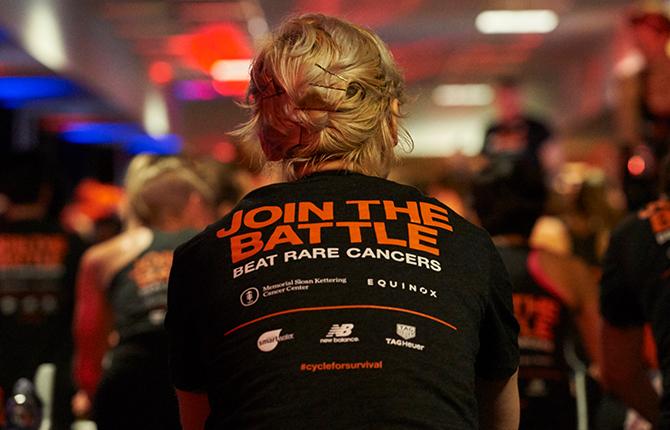 Through your fundraising efforts, you can earn team and individual Cycle for Survival gear plus other exciting benefits! You'll also have access to monthly matches and challenges to help you reach — or exceed — your goals.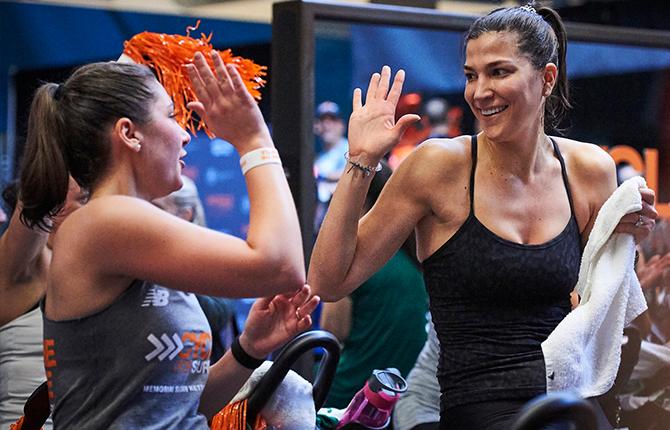 Get invitations to virtual community conversations. These will range from impact updates from MSK doctors to opportunities to connect with other Cycle for Survival supporters, among other engaging programming.
---
And there's so much more!
Bringing everyone in this movement together for powerful, rewarding, and safe experiences is our priority as we fight to beat rare cancers in 2022.
Exclusive Gear and Opportunities
Anyone who attends an in-person ride will receive a 2022 wristband and T-shirt at the event.
Everyone who raises $4,000 or more will receive a Cycle for Survival umbrella.
---
As a team captain or team member, if your team raises:
$5,000 to $9,999 per bike, you will receive a belt bag.
$10,000 to $24,999 per bike, you will receive an athletic long sleeve shirt.
More than $24,999 per bike, you will receive a full-zip hooded sweatshirt.
*Extreme riders who raise $5,000, $10,000 or $25,000 will also be eligible for the team gear.